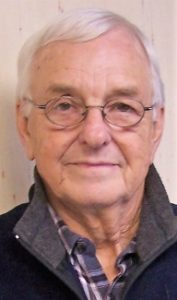 In over a decade of volunteering at Rebuilding Hope, Bill Overby has found a story behind each project.
"Over the years I have been involved in roofing jobs, steps and railings, floor repairs, and probably 50 or 60 ramps," says the retired engineer. "I have come to realize that there is a story behind each one of these projects – often difficult and heart-rending stories.
"Understanding that helps remind me to reassure those we assist that Jesus loves them and is present even during their most difficult times."
Bill began his service to the ministry when RHI coordinator Randolph Wilson spoke to the Baptist Men at West End Baptist Church (WEBC), where he was then a member. Soon after, a lady in the church needed a ramp.
"I called Randolph to get some direction about design, permitting and construction requirements," he says. "After that initial experience, I supervised and hosted the WEBC youth for a DNow (Disciple Now) project and the rest is history."
That history for Bill, a native and resident of Warren County, includes leading teams from various churches in projects, coordinating through assessment and construction of RHI efforts for Warren County and serving on the RHI board of directors.
"Initially, after retirement I wanted some way to serve that would utilize my professional experience and training while affording opportunities for Christian fellowship and witness to the communities we serve.
"After hearing Randolph's vision for sharing Christ while working to solve people's physical needs, I realized God's perfect timing and preparation for my retirement," Bill says.
Because his mother was in a wheelchair for the last 15 years of her life, Bill says he had an up-close look at the difficulties that people with mobility problems encounter in their lives every day.
"I think that has given me a special desire to assist with those kinds of projects," he says.
Special experiences for Bill include helping an amputee who couldn't leave re-hab because he couldn't get in or out of his home; a 15-year-old who needed a ramp before he could get a wheelchair; an aged dialysis patient who had to navigate steps to go to her appointments; and an amputee on dialysis who lived alone and navigated chest-high steps at his home to get to therapy three times a week.
Bill encourages others to volunteer.
"When we make ourselves available, the Lord will give us the abilities we need," he says.
A member of Enterprise Baptist Church in Littleton, he is director of the church's Baptist Men's ministry.
Bill and Linda have been married for 55 years and have one son.
In his leisure time, Bill volunteers for RHI and church projects and occasionally shows a 1965 Shelby Cobra that he built.