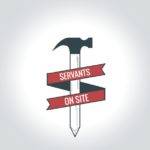 Servants On Site is our summer event. The week of June 23-30, 2018, RHI will coordinate and host its sixth annual week-long youth mission project, Servants on Site (SOS).
SOS – a week of work, worship and witness in Vance County and surrounding areas – is a mission opportunity for youth who have completed sixth grade and for adults of all ages. Participants are housed at Crossroads Christian School and will work on homes in the area during the day, meet for worship in the evening and have devotion time with their own church groups.
SOS Participants
Local and out-of-town groups of youth who have completed sixth grade, along with their adult group leaders, are housed at Crossroads Christian School. Crews are formed and go out Monday-Friday to do hands-on ministry for a local homeowner. Breakfast, supper and worship are at Central Baptist Church.
Destination SOS
In addition to participants from Vance, Granville, Warren and neighboring counties, teams will be coming from a number of communities, such as Roxboro, Windy Gap and Otto, reports Martha McGowan, SOS secretary and a member of West End Baptist Church. And it's also Destination SOS for teams from Alabama and South Carolina.
SOS June 23-30
Participants in this year's Servants on Site will repair 12 roofs and build six wheelchair ramps. The June 23-30 event will be our sixth annual week of witnessing and sharing Christ and serving people in need in our communities. As the May 1 deadline for registering passed, 153 participants had signed up.
Project Coordination
Leigh Humphries is once again project coordinator, a job she's had since the first SOS week in 2013. Leigh, who lives in Person County, has sorted through the registrants and organized the crews according to the types of jobs scheduled. Before the work begins, she will assign encouragers for the crews at the work sites, which she visits during the week.
Leigh's duties continue once the day's work is done as she helps chaperone the youths overnight at Crossroads Christian School. "It's a big job and a huge responsibility," says Leigh, a member of Theresa Baptist Church. "This time of year I get a little anxious," she says, "but when the kids get here there's a lot of joy."
Materials Coordination
Without a steady supply of materials, the jobs would not be completed. And that's where Walt Slaton, a member of Central Baptist Church, comes in as materials coordinator.
With a worksheet describing each job, Walt assembles shingles, tar paper, lumber, nails, bolts, nuts, washers, tools, compressors, hoses and more the week before SOS. Materials are on-hand, donated or purchased locally. Where possible, materials are delivered to sites before the work week begins.
Throughout the week, Walt says he has runners ready at the RHI warehouse to resupply workers through a chain that begins with a job's crew chief who notifies a multisite supervisor. The supervisor notifies Walt who dispatches a runner.
Breakfast and Supper
Breakfast and supper are served at Central Baptist Church, beginning with Sunday breakfast before the work week begins.
Central member Roger Bibee does most of the cooking. Supplies, Roger says, include 4-5 cases of liquid eggs, 300 chicken quarters, 10 gallons of spaghetti sauce and noodles, 40-45 pounds of bacon, sausage, hash browns and more. Supper includes a full salad bar. A team of six helps with serving and cleaning up.
Lunches
Fifteen churches will provide lunches for the teams at the work sites. The churches are Fuller's Chapel, Gardner Baptist Church, First Baptist Church (Creedmoor), West End Baptist Church, Raleigh Road Baptist Church, Liberty Christian Church, New Bethel Baptist Church, New Life Baptist Church (Henderson), North Henderson Baptist Church, New Sandy Creek Baptist Church, St. Paul's Lutheran Church, Carey Baptist Church, Oxford Baptist Church, Island Creek Baptist Church, and Norlina Baptist Church.
Week's Theme is "Fixed"
The theme for the week this year is "Fixed." The meaning of the theme will be explained by guest speakers at each of the evening worship services during the week.
The services and their emphases will be: Sunday, "Need Fixing," based on Romans 3:9-18; Monday, "Can Be Fixed," based on Romans 1:16; Tuesday, "All Eyes Fixed on Jesus," a panel discussion; Thursday, "God's Plan is Fixed," based on Matthew 28; Friday, "God is Fixing a Place – Eternity," based on John 14:1-11. On Wednesday afternoon, participants have free time.
The public is encouraged to attend the worship services at 7 p.m. at Central Baptist Church, except Wednesday night.
Needs for SOS
Volunteers – Adult/college-age volunteers are needed to serve as staff during the week. Staff assists with setting up the rooms, posting signs and schedules and for chores such as cleaning bath and restroom facilities.
Financial Support for SOS Projects
A roofing project costs approximately $2,000, but any amount is appreciated. A church sponsoring a project will "adopt" the crew for the week and serve lunch each day. Your crew will attend your church for worship and lunch on Sunday and meet your congregation. Afterwards, the crew will visit the homeowner.