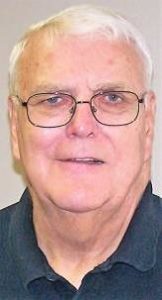 When Dave Burns retired, he wanted to stay busy. Volunteering at Rebuilding Hope was a good fit.
For the past three years he's volunteered to man the application and phone desk, run supplies to job sites during Servants on Site week, help build wheelchair ramps and guide youngsters during Kids' Construction Camp.
Dave got involved with the ministry through fellow church members who volunteer at RHI.
"I also wanted to give back to the community and help others," says Dave, a Huntington, West Virginia, native and avid Marshall University football fan. "The real joy is being able to help someone who has a need. That's a real blessing."
Dave, a Vance County resident, says that the most rewarding part of his work at RHI is "sharing Jesus with those who come in to fill out an application."
He recalls a special experience when a widow came in to inquire about an application, and she was distraught over her husband's passing. Sharing the love of Jesus with her, Dave encouraged her to reconnect with a church family. Dave says he explained to her how his church helped him when his wife, Donna, passed away in September 2017.
"And that's why God had me there," he says.
Dave retired in 2015 from Ardagh Glass Containers after 46 years where he was a journeyman mold maker. His employment took him to three locations, West Virginia, Illinois and finally to Henderson.
A member of Central Baptist Church, he serves in outreach in the community and with the church's Joy Club ministry at Dabney Elementary School. He's a deacon and has served on various committees.
Dave and Donna were married 51 years. They have a son and three grandchildren.