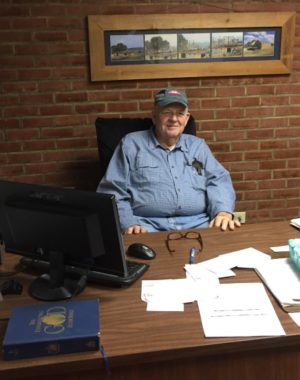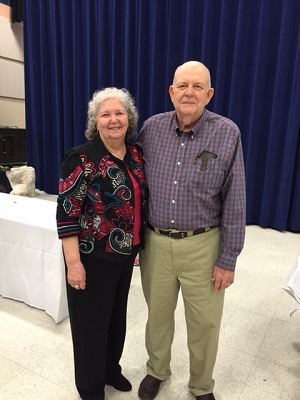 Who We Are
The mission of Rebuilding Hope, Inc is to provide and coordinate opportunities for Christ centered ministry by Rebuilding Hope in people's lives by seeking to share Christ and build faith for those in crises and need. The focus has been on assisting local homeowners who live in homes that they own but find themselves overwhelmed by needed repairs.
Rebuilding Hope Inc (RHI)  is a non-profit corporation. Based in Henderson, RHI serves surrounding areas in Vance, Granville, Warren and Franklin counties of North Carolina.
The people of Rebuilding Hope, Inc are dedicated Christian volunteers from all stages of life and from different denominations that are united in a single cause: to do real mission work right here in their own neighborhoods. They are called to serve and generously donate their time, gifts, or financial resources to better the lives of individuals who are unable to do for themselves, and glorify God through their actions.
What We Do
Rebuilding Hope, Inc uses home repairs to meet the physical needs of hurting people, but most importantly, to gain the opportunity to share the gospel of Jesus Christ, the only way to meet their spiritual needs. By sharing the Gospel through both actions and words, RHI seeks to demonstrate the hope and power of the Living Christ.  Our goal is not only to rebuild homes, but primarily to rebuild lives and hearts.
RHI is committed to offering necessary restorations to homeowners as able through volunteer labor and materials. RHI specializes in wheel chair ramp installations and shingling roofs. Some wheelchairs ramps may be added on to rental property with written consent of the landlord.
Applications for home repair are accepted from 9 a.m. to 3 p.m. Monday through Friday and are evaluated on a case by case basis. Each potential project includes an interview, an onsite evaluation, an appraisal of materials and labor needed, and a title search to insure we are dealing with the actual homeowner. During the evaluation process, RHI hopes to see the applicant connect with family or a local church for additional laborers to speed along the work. Repairs are done by a team of local and out of town volunteers under the supervision of a RHI provided crew chief. All work is completed by volunteers so wait time from application to completion varies based on local support gathered by applicant.  Materials are purchased and provided by RHI through the support of local churches, individuals, & businesses.
Annual Activity Reports
April 2018                     2017 Activity Report
In 2017, 550 volunteers worked 20,206 hours to complete 89 projects.
February 2019              646 Volunteered at RHI in 2018; 2019 Shaping Up As a 'Busy Year'
In 2018, 646 volunteers worked 20,638 hours, building 31 wheelchair ramps, replacing 13 roofs and completing 19 other projects.
February 2020              675 Volunteered at RHI in 2019; Number of Projects Increased
In 2019, 675 volunteers worked about 21,000 hours, building 32 wheelchair ramps, replacing 16 roofs and completing 12 other projects.
February 2021              191 Volunteered at RHI in 2020; Pandemic Reduced Job Output
In 2020, 191 volunteers worked 7,561 hours, building 29 ramps, replacing 9 roofs and completing 4 other projects.
February 2022              2021 Volunteer Hours Up 31% Over Previous Year
In 2021, volunteers worked 9,879 hours, building 46 wheelchair ramps, replacing 12 roofs and completing 6 other projects.
May 2023                      2022 Report of Ministry Activity: Volunteers Log Thousands of Hours
In 2022, volunteers worked 5,571 hours to build 74 ramps, replace 13 roofs and complete 10 other projects.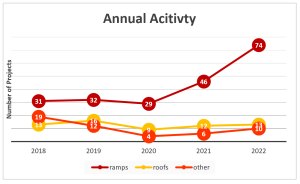 Click Here to see more information on our Volunteers/how you can sign up and our Volunteer Spotlight!