Rebuilding Hope, Inc. sponsors two ministries: 
REBUILDING HOPE, INC SPONSORS TWO MINISTRIES:
Mission Statement:
SERVANTS ON SITE exists as an extension of Rebuilding Hope, Inc. We are a tool for churches to mobilize, equip, and disciple students in an evangelistic effort to impact a lost and fallen world with The Gospel of Jesus Christ.
Description:
SOS (Servants on Site) is our summer event.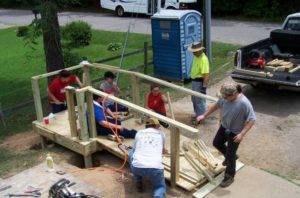 Local and out-of-town groups of youth who have completed 6th grade, along with their adult group leaders, are housed locally. Crews are formed from a pool of all participants and go out Monday-Friday to do hands- on ministry to a local homeowner. Breakfast, supper and worship are at Central Baptist Church. Local churches minister to the crews and provide on-site lunch Monday-Friday.
Kids' Construction Camp will be August 7-9, 2023 from 9 a.m.- noon.
Description: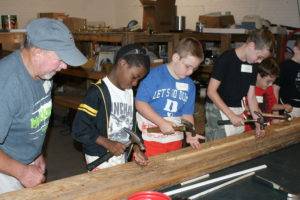 KCC gives completed 2nd-5th graders hands-on experiences with basic construction skills as they rotate through stations such as Hammer & Nails, Electrical & Plumbing, Block Laying, Building a Birdhouse, and Roofing. There is no cost. A snack is provided mid-morning.  Call or email for more information or to sign up.