Teams of Rebuilding Hope volunteers assisted with cleanup in Elm City on Sept. 20 following a tornado spawned by Hurricane Florence and in Warsaw on Sept. 22 with cleanup from the hurricane.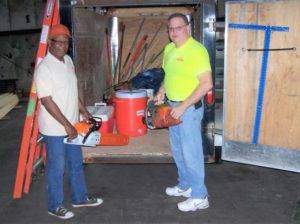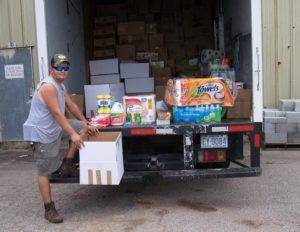 In another disaster relief effort, RHI called for donations of cleaning supplies, paper products, nonperishable foods, and other essentials for hurricane victims. On Sept. 22, the supplies were delivered to the Core City FWB Church in Craven County, a collection site for Craven and Jones County victims.
"The response," says RHI coordinator Randolph Wilson, "enabled us to nearly fill one of our trucks. We met people in dire need of help, and they're going to need help for a long time to come."
To further assist victims, RHI is working on plans to assist repairing homes. A partnership would be with either North Carolina Baptist Men or a local church in eastern North Carolina.
RHI began preparing to offer assistance to hurricane victims as the path of the hurricane was announced.
Within days, two tool trailers were outfitted with chain saws, generators, ladders, ropes and chains, safety equipment and a variety of tools. A tractor and skid steer loader were serviced and readied for use.
As the path of the storm veered away from local communities, volunteers looked toward helping storm-ravaged communities in other parts of the state and waited for a call.
Gearing up for this kind of mission is a first for Rebuilding Hope.
"We have the equipment, and volunteers are eager to help," RHI coordinator Randolph Wilson says.
"We can't do much where the hurricane hit until the water recedes," he says. "Then we'll connect with others at operation centers."
RHI's mission is always Christ-centered. "When we serve, we want victims to know that we come in the name of and with the love of Jesus," Randolph says.