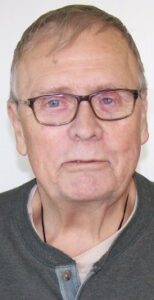 Volunteer Neal Goddard came to Rebuilding Hope in a very practical way.
"Rebuilding Hope built me a ramp when I had knee surgery in 2014," Neal says. "I came by to see the facility. I heard a lot of great news about how Rebuilding Hope helped a lot of people." On another occasion when he requested help to replace his roof, a volunteer asked if he would like to help the ministry. "I said yes and am so glad I did," the Williamston, N.C., native says.
Neal has volunteered a day a week for about a year taking applications. "Every time someone fills out an application for a ramp because of a medical reason and it's built by volunteers, it does my heart good," Neal says. "I would encourage others to volunteer to see how you love the work and the other volunteers who help you," Neal says. "God will bless you."
A member of New Sandy Creek Baptist Church, he is a member of the calling committee and a member and past president of Baptist Men. Neal and his late wife Lori have two children and three grandchildren, with one on the way. In his leisure time Neal says he enjoys reading the word of God, watching sports, gardening and learning about and growing flowers.