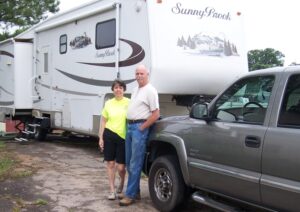 While most RHI volunteers live nearby, Billy and Ann Layton travel a bit to serve the ministry. The Laytons drive 38 miles once a week to Henderson from their home in Nashville, N.C. While in Henderson, the couple stays in their travel trailer snuggled in a back corner at RHI.
No strangers to travel, the couple for a number of years worked as site coordinators for North Carolina Baptist Men in rebuilding homes after hurricanes and other disasters.
The Laytons got to know RHI founders Randolph and Gail Wilson through business connections and NCBM relief work.
Billy attended his first NCBM training in 1992, he says, and took several relief trips.
"In 2005, God spoke to me, and I began to get involved with NCBM again," says Billy, who in 2012 closed his 25-year-old mobile home service business. Prior to his appointment as a rebuild site coordinator in 2011, trips to disaster areas found him taking care of equipment and coordinating shower and laundry operations.
"I enjoy helping those in need," says Billy. "Most rewarding is being able to share the gospel with others by our actions."
Billy says his service at RHI has included helping rebuild several homes and mobile homes, distributing materials at job sites and serving as a crew chief supervisor. He's helped build the bunk, shower and gathering areas on the second floor of the warehouse.
"The first day I came to RHI with Billy, I thought I would just be helping him with whatever building projects he worked on," says Ann. "On my first day, Randolph showed me around. When he was showing me the office area, he was telling me who used each one.
"He stopped at one office and said, 'This is where the new lady will be working.' When I looked at him he had a big grin on his face, and I realized that he was talking about me. I spend most of my time on the computer but do get to help Billy a little bit."
RHI, the couple says, is a ministry where volunteers are welcome regardless of their skill levels.
"The only request is that they represent God in a godly way in all they do," the Laytons say.
Billy and Ann are members of Momeyer Baptist Church in Nashville where he serves as a deacon and mission trip crew leader and assists with maintenance.
The couple has three children and three grandchildren and enjoy enjoys spending time with family at Lake Gaston.