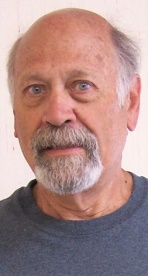 "I am the drywall mudder of choice," says Larry Leach with a grin. "When the drywall goes up, I get the call to come and tape and mud." Larry began offering his services to RHI several years ago.
After retiring from IBM with 30 years of service and from 15 years as a contractor for the company, "I was looking for a way to use my time and experience to improve the houses of Henderson," says the St. Louis, Missouri, native. "Seeing so many houses in need of attention made me sad."
"I wanted to volunteer at some organization doing repairs and improvements to homes in Henderson."
Larry says he watched the progress of RHI's fundraising for the Coca-Cola building, and after it was purchased in 2017 he stopped in to explore the opportunities, one of which turned out to be finishing drywall.
"The other thing that honestly just comes naturally was the unpacking of the stuff moved from the old (RHI) location" on North Oliver Drive, he says.
Larry unpacked and determined where to store plumbing and electrical supplies, screws, nuts, bolts, nails, roofing, paint, tools, office supplies, and even some kitchen items.
"Since then we have received boxes from organizations and individuals, and I dig into them and do my best at locating a place for the stuff," he says.
Larry's volunteering doesn't stop at RHI.
"I am involved with GRRO (Green Rural Redevelopment Organization) a nonprofit organization that is revitalizing the landscape in Henderson by converting empty city owned lots in the middle of the city into gardens," Larry says.
"My wife Belinda and I manage one of these gardens and offer up the produce to various food bank organizations."
Larry and Belinda also volunteer at Second Thursday packing food boxes for distribution, providing fresh produce to the citizens of Vance County.
Leisure time finds Larry enjoying yard work, home improvement and repairs, reading, walking his dogs and vegetable gardening.
Larry and Belinda have been married for 19 years and between them have five children and seven grandchildren.