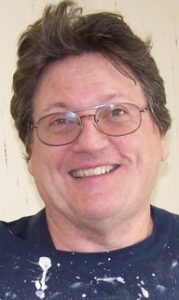 The variety of backgrounds among RHI volunteers includes a retired teacher, David "Doc" Ayscue.
After 31 years of teaching high school health and physical education in Vance and Granville counties, Doc was invited by friend, fellow church member and RHI volunteer Steve Cannon to visit the ministry.
"I've been here ever since," says Doc, who left the classroom in 2010. "And it's been fun."
Doc, a Henderson native, says he was attracted to the ministry because it helps others, and the volunteers are "good Christian men to work with."
Encouraging others to volunteer, Doc says, "There is no other way to get the feeling you get by helping someone."
Doc, who also coached middle and high school baseball, basketball and football in Vance, recalls one special experience.
"We were fixing up a mobile home for someone, and I painted every room a different color," he says. "I called it the Joseph house."
At RHI, Doc, now a self-employed painter, runs the paint room, helps build ramps and replace roofs, does a bit of carpentry and is a runner during SOS.
"I try to work at least one day a week at RHI," he says. "Seeing the expressions on homeowners' faces and knowing I've been able to help someone" is rewarding.
Doc's voice is familiar, too. He's a WIZS sports commentator on Monday afternoons and broadcasts Friday night football games.
A member of New Sandy Creek Baptist Church, Doc is a deacon, a member of the choir and the building and grounds and counting committees.
Doc and Brenda have been married for 40 years. They have three children and a grandchild.