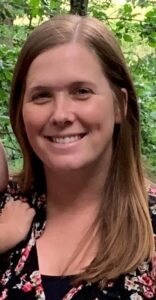 When Rebuilding Hope needed an online upgrade, it was Katie Jones to the rescue.
"I first heard about RHI from Pastor Ralph
McGowan at West End Baptist
Church," Katie says. "My parents
are long-time members there,
and I was a mem- ber before I got
married and my husband and I
moved away for several years.
"He mentioned that Rebuilding
Hope was in need of some web design help, and I had a little experience with this. He took me to meet Randolph and
Gail Wilson. Thankfully, I was a good fit and have
been able to help with setting up the new website
and adding monthly updates."
Katie, who is a free lance e-commerce manager,
data entry specialist and transcriptionist and
works from her home, has been an RHI volunteer
for about 18 months.
The Oxford resident says she was "immediately
drawn to the ministry because of Randolph's passion
for serving the local community and drawing
others to Christ.
"I felt that he was a great leader and knew it
would be a pleasure to help with this organization in
any way I could."
Katie, a member of Clearview Baptist Church,
encourages others to volunteer at RHI.
"I think RHI has a great mission and is focused
on being a positive influence to our community," she
says.
Katie's volunteer spirit extends beyond RHI.
"An organization that is close to my heart is Renewal
Coalition," she says.
The non-profit, based in Jupiter, Fla., brings
wounded veterans and their families to its property
for all-expense-paid retreats where they can relax
and spend time together.
Katie and her husband, Steven, helped run the
retreats when they lived in Florida, she says. Steven
is medically retired from the Marine Corps after being
injured in combat in 2011.
"This is an organization that means a lot to us,"
she says. "We still try to travel back to Jupiter at
least once a year to assist with a retreat, and I also
help to create Renewal Coalition's quarterly newsletters."
At Clearview, Katie, a Henderson native, volunteers
in the nursery, and the couple works with the
church's BLAZE kids ministry.
Married for eight years, the couple has two sons
and a daughter.